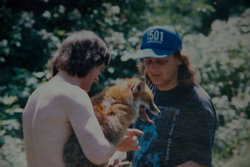 Media Reels – Our Spotlight On The World Film Community
written by John Metcalfe 2008
FISHEYE
. Gary Dawes. Director/Writer/Producer/Cinematographer
It has been said that creativity has two parts: thinking, then producing. Although true in its most basic form, this notion is shy of one critical element. Many individuals from a variety of fields think, then produce on a daily basis, yet the outcome of their actions are not necessarily creative in nature. For example, the assembly line worker thinks about his action prior to producing his intended result,is this to say then, that said worker is creative in his or her endeavor? No. Creativity requires mastery of a particular skillset—usually, but not always, artistic in nature. Of those learned individuals, the most creative are those who choose to attain the highest level of expertise through sheer diligence and commitment to their vision of success. The list of these particular folk is long, but the most recent inductee could very well be independent British filmmaker, Gary Dawes.
Gary's foray into film began in the camera dept at Sammy's, after serving a 3 year apprenticeship which included a year in the Soho branch working with still cameras. Gary aged 20 years then embarked on a freelance career as an assistant cameraman and counts himself extremely lucky to have spent many years of his life traveling to numerous locations around the world working alongside some of the most creative filmmakers in the industry. Over the course of his freelance career, Gary would lend his expertise to a vast and diverse array of TV commercials, music videos, documentaries and features, gathering a wealth of knowledge which would later be used to develop his first creative short.
Gary admits to toying with the idea of writing and directing his first short for quite some time and puts this down to his need to know the filmmaking process inside and out. While honing his skills, Gary was constantly conceiving new story ideas—ideas which would sooner or later result in a unique film shot utilizing all his professional talents, and then some. To Gary Dawes, filmmaking is more than just artistic expression, it is a labour of love. The opportunity to create his first short film would also expose the aspiring artist and consummate professional to other aspects of the industry such as writing, editing and sound.
Fisheye is the result of Gary's ardent labor and love of film coupled together with his passion for creating his own work. Set to the progressive rock sounds of Genesis and Pink Floyd, Fisheye tells the story of a poacher who is killed by the creatures he hunts. For a first time effort, Gary Dawes has definitely accomplished what he has set out to do, and more to create a film which is definitely different and shot with expertise. The release of Fisheye and its subsequent marketing via the internet opens the doors for future endeavors from this extremely talented filmmaker. For Gary, the timing couldn't be better. With the growing demand for dynamic content over the internet and the shameful lack of originality coming from Hollywood, Gary is in total control over his destiny as a filmmaker.